Randstad Employer Brand Research, Ukraine 2021 Results
On April 14, the Randstad Award ceremony in Ukraine was broadcasted live, opening the results of this year's independent international employer brand survey. As part of the study, ANCOR Ukraine and Randstad holding announced the list of companies that Ukrainians have outlined as 2021 employers of choice!
This year the Randstad Employer Brand Research covered more than 200,000 respondents in 34 countries. All countries participating in the study generate 80% of the world economy. The aggregated data fully reflect global trends in the global labor market.
6,703 respondents took part in the Ukrainian survey. The sample was conducted by gender, age, level of education and geography of respondents. The survey involved both employed employees and those Ukrainians who are currently in the process of looking for work, representatives of various industries and professions aged 18 to 65 years.
The key drivers to choose employers in Ukraine this year: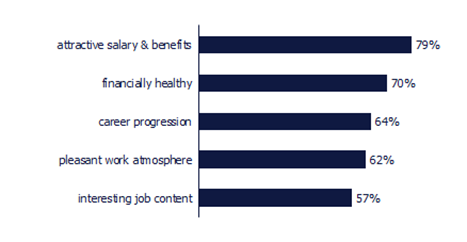 39% of Ukrainian workers are attracted by the opportunity to work remotely, which makes this criterion less important than others. Women and workers with higher education tend to rate it higher, but not high enough, compared to more important ones. For part-time workers, remote work is important (46%) than for the average worker (39%).
Two of the three employees were involved in the decision on the need for remote work, while other employees working remotely were not involved in the choice of this format. More than half of employees with higher education continued to work normally (56%).
45% of employees were sent on leave at their own expense, or they lost their jobs altogether, started working under new conditions, or for other reasons saw changes in the nature of employment because of COVID-19.
The largest share of those who became unemployed was among workers with below average education (15%) and secondary education (13%). Among those who started working more, there are employees with higher education (6%). However, most Ukrainians continued to work normally. This mainly applies to men, workers over the age of 35 and those with higher education.
Over the last 6 months of 2020, 13% of Ukrainian employees have changed employers. The majority were men (15%), indicating that women (12%) were less likely to transition. Another 27% of employees intend to change employers in the next 6 months.
Job search sites (49%) and personal links (48%) are the channels most often used by those who have changed employers.
Young people and workers with higher education prefer company websites with information about vacancies. Men more often than women seeking employment with Google, as well as representatives of the so-called blue collars.
In the course of the study employers attractiveness, the respondents identified the most attractive employers in various industries of the Ukrainian market.
In different sectors of the economy awards were given to:
Automotive industry - AVT Bavaria

Pharmaceuticals - Bayer

Food consumer goods - Coca-Cola

Non-food consumer goods - L'OREAL

Chemical and agrochemical industry - BASF

Information technology - GlobalLogic

Non-food retail - Adidas

Food retail - METRO Cash and Carry

Financial services - National Bank of Ukraine

Telecommunications - Nokia Solutions and Networks

Agriculture - Continental Farmers Group

Metallurgy and Mining - ArcelorMittal

Transport and logistics - DHL

Media - StarLightMedia

Mechanical Engineering - KB Yuzhnoe
The two main Awards by designer Marcel Wanders were given to most attractive national and international employers in Ukraine. For the second year in a row, Naftogaz Group was recognized as the most attractive national employer. For the third year in a row, Samsung became the most attractive international employer.
Congratulations to the winners!
See the full
2021 Award Ceremony
and
REBR Report
for Ukraine on
ancor.ua/en